Hello loves. Today I have some pumpkin carvin fun for your nails. This is another skittled look across the nails(each nail being different) that showcases a lot of the faces I like to carve into my punkins. Here's the look I came up with today:
Now, carving pumpkins is by no means my favorite part of Halloween because it's just far too messy for me and my hands get tired during the carving process lol, BUT I am a big fan of the art that others can create using this medium. You know what I'm talking about- people create true art like this piece: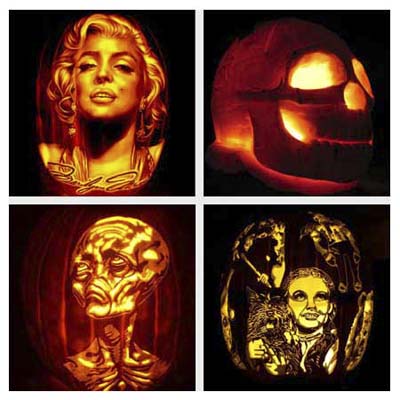 Here is Maybelline Red Relic at two coats on it's own. Now while you are aware I do not like(being nice there) the formula of the Leather polishes from Maybelline, this one ended up being perfect for the base of this mani.
And that's it for today! I hope this look inspires you to indulge in your own passion today. We're all in charge of our own happiness- make yourself happy today!
Song of the Day: Freelance Whales- Hannah
http://www.youtube.com/watch?v=LOyM3xdSurQ
*this link is provided for its audio and not video content*
Over and out.